During the pandemic I saw how people like my own high-school aged daughters were struggling, and I wanted to help. I joined the Learning FA, a new central team being formed to help make Google's products better for learning. I focused on broad strategic goals (like defining new business areas) and spent a lot of time making our core products – like YouTube and Search – more educational. It's fun to be designing products for my kids again (and to hear from them how it's actually helping)!
We've launched dozens of learning features on both platforms, and here are a couple that I'm proud of.
Search for "periodic table" to explore an interactive version of this classic chemistry mainstay. Clicking on any element opens an interactive 3d Bohr model with key facts about the element. You can even view an AR version of this model right in your living room or classroom with your mobile phone.
YouTube is known for its endless library of how-to videos, but did you know that millions of people also use it to help them with their schoolwork every day? But it's not always easy, and people told us it could be distracting. So, we removed distractions that used appear alongside academic videos, and now suggest only relevant academic videos when you're studying. We also added new features like searchable transcripts that help students quickly hone in to the parts of videos that answer their questions.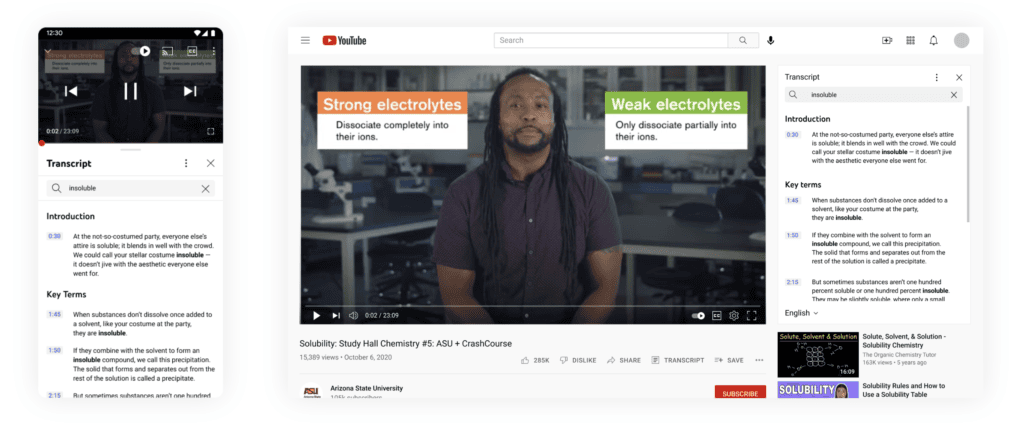 This work is both rewarding, and fun. Over 20 years ago, I made exhibits at the San Francisco Exploratorium and loved how kids would playfully explore, experience and learn new ideas driven by their curiosity. At Google, I love to ask how we can bring playful exploration to learners' experiences with our products. Because who said learning can't be fun?