Hayes Raffle, Rafael "Tico" Ballagas, Glenda Revelle, et al., in Collaboration with Sesame Workshop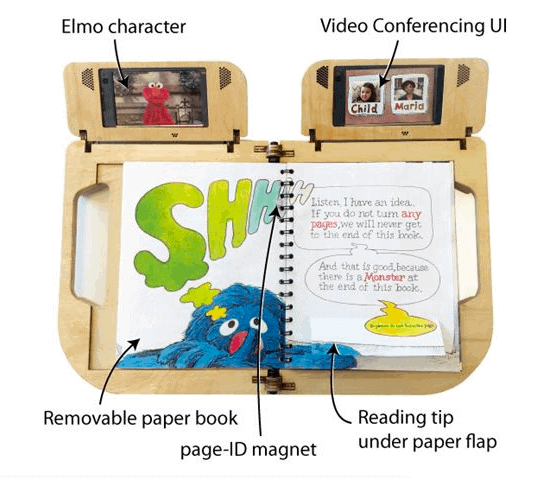 Family Story Play
Family Story Play supports grandparents to read books together with their grandchildren over the Internet. Story Play improves communication across generations and over a distance, and to supports parents and grandparents in fostering the literacy development of young children.
The interface encourages active child participation in the book reading experience by combining a paper book, a sensor-enhanced frame, video conferencing technology, and video content of a Sesame Street Muppet (Elmo). These features improve child engagement in long-distance communication. Story Play also encourages dialogic reading styles that are linked with literacy development.
Family Story Play leverages a synergy between young children's education—in this case, a rich shared reading experience—and communication with long-distance family. Our goal is to create new kinds of toys and tools that support creativity, learning, and family togetherness.